Chyke A. Doubeni, M.D., M.P.H.
Member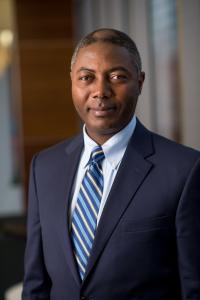 Chyke A. Doubeni, M.D., M.P.H., is a family physician and the inaugural director of the Mayo Clinic Center for Health Equity and Community Engagement Research, which addresses health disparities throughout the life course and advances the ideal of health equity locally and globally through research and community engagement. He is certified by the American Board of Family Medicine. Dr. Doubeni has expertise in clinical and public health interventions, as well as primary care transformation to improve access to care and eliminate disparities in the burden of chronic disease in communities. He conducts research to foster novel population health and community-driven strategies to promote health.

Dr. Doubeni previously served as Interim Associate Vice Provost for Diversity at the University of Massachusetts Medical School. Dr. Doubeni has many years of experience in undergraduate and graduate medical education and mentoring. He directed the transdisciplinary National Center for Integrated Behavioral Health in Primary Care, funded by the Health Resources Services Administration to advance innovative models of improving access to care for mental health conditions and substance use disorders. He has also directed a cancer clinical epidemiology training program funded by the National Cancer Institute and codirected a Stimulating Access to Research in Residency program.

Dr. Doubeni has conducted extensive research in delivery systems and communities to improve the process, quality, and effectiveness of cancer prevention and screening and inform national efforts to increase the uptake of cancer screening, with a focus on racial/ethnic and socioeconomic disparities. He has authored many peer-reviewed publications, including articles in the New England Journal of Medicine, Journal of the American Medical Association, Annals of Internal Medicine, Annals of Family Medicine, Pediatrics, American Journal of Public Health, American Journal of Preventive Medicine, Journal of the National Cancer Institute, Gut, and Cancer. Dr. Doubeni authors topics on colorectal cancer screening for UpToDate, an online point-of-care, evidence-based clinical information resource. He is the principal investigator on a colorectal cancer screening comparative effectiveness study funded by the National Cancer Institute. His work also has been funded by the Robert Wood Johnson Foundation Substance Abuse Policy Research Program.

Dr. Doubeni received the 2010 Presidential Early Career Award for Scientists and Engineers, which is the highest honor bestowed by the U.S. government on science and engineering professionals in the early stages of their career for accomplishments in research, mentoring, and community service. He also received the Sadie Gerson Distinguished Scholar Award from the University of Pittsburgh. He has served as chair of grant review panels for the National Institutes of Health.

Dr. Doubeni earned his medical degree from the University of Lagos, and he has a diverse clinical background with experiences in three continents. He received a fellowship of the Royal College of Surgeons of England, and completed a family medicine residency at Duke University and a preventive medicine/public health residency at the University of Massachusetts, where he also obtained a master's in public health degree.

Dr. Doubeni joined the U.S. Preventive Services Task Force in January 2017.